"Through the Looking Glass and Straight into Hell," from Orphans of Bliss: Tales of Addiction Horror (Wicked Run Press), nominated for the 2022 Bram Stoker Award® for Superior Achievement in Long Fiction.
We Are Providence: Tales of Horror from the Ocean State (Weird House Press), nominated for the 2022 Aurealis Award for Best Anthology.
Mentioned in The Best Horror of the Year Volume 11, edited by Ellen Datlow, Summation: 2018, Collections: Something Borrowed, Something Blood-Soaked
Indie Horror Book Award for Best Debut Collection, 2018:
Something Borrowed, Something Blood-Soaked
Best-Of Anthologies: Year's Best Hardcore Horror, Volume 2
Read more via Comet Press, or at Corner Bar Magazine, where "The Girl Who Loved Bruce Campbell" was originally published, or listen at Horror Hill, Chilling Tales for Dark Nights / The Simply Scary Podcast Network
The Haberdasher's Monster Mash Slash Fiction 4th Annual Halloween Writing Contest, 2017
Read more at The Haberdasher, or at C.S.E. Cooney's website, where "The Goblin's Abettor" was originally published
Best in Genre, Thriller/Horror, wordhaus' 2016 Trick or Treat Fall Story Contest



Des Lewis reviews Vastarien, Vol 6, Issue 1, including Christa Carmen's contribution, "Echoes of a Former You": "… fraught with a woman's nightmare in her own home after the horror performed on her outside it—to describe which nightmare would 'spoil' it. Suffice to say, it's a painfully heartfelt attritional journey of windows and doors in a world that is stitched with Ligotti."
Christa Carmen blurbs Tony LaMalfa's debut: "With Forbidden Knowledge, Tony LaMalfa has crafted a pair of novellas so well-versed in the oeuvre of Lovecraft, he had me convinced—at times—I was reading an undiscovered work by Lovecraft himself. But Forbidden Knowledge is far too dynamic, unsettling, and utterly original to be anything other than the work of an explosive new talent, a talent whose prose burns like a white-hot star from beyond the fourth dimension. Lovecraft scholars and general horror fans alike will delight in this magnetic, magical tome."
Gwendolyn Kiste is back at The Line Up with "5 Horror Books to Match with Your Favorite Tarot Cards," and includes Orphans of Bliss ("Christa Carmen's Bram Stoker Award-nominated novelette, 'Through the Looking Glass and Straight Into Hell,' is worth the price of admission alone.") along with The Devil card!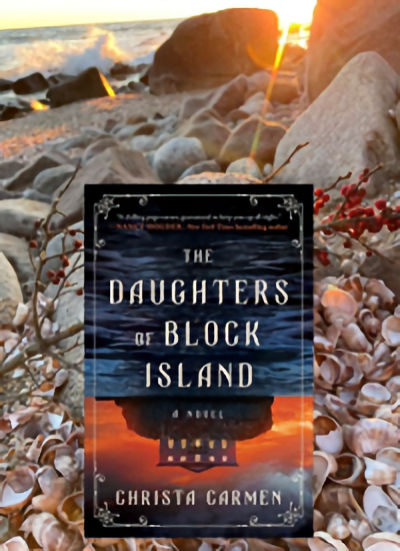 Oct 12, 2023
8:00 PM - 9:30 PM
Galactic Terrors Reading Series
Virtual

Dec 01, 2023
6:00 PM
The Daughters of Block Island Release Event
Bank Square Books (location pending)

Dec 02, 2023
10:00 AM - 12:00 PM
The Daughters of Block Island Reading/signing
Wakefield Books, Wakefield, RI

Dec 05, 2023
6:00 PM - 7:00 PM
The Daughters of Block Island Reading/signing
Charter Books, Newport, RI

Dec 09, 2023
10:00 AM - 12:00 PM
The Daughters of Block Island Reading/signing
Rarities Books & Bindery, Wakefield, RI

and

2:00 PM - 3:00 PM
The Daughters of Block Island Reading/signing
Stillwater Books, West Warwick, RI