Books / Something Borrowed, Something Blood-Soaked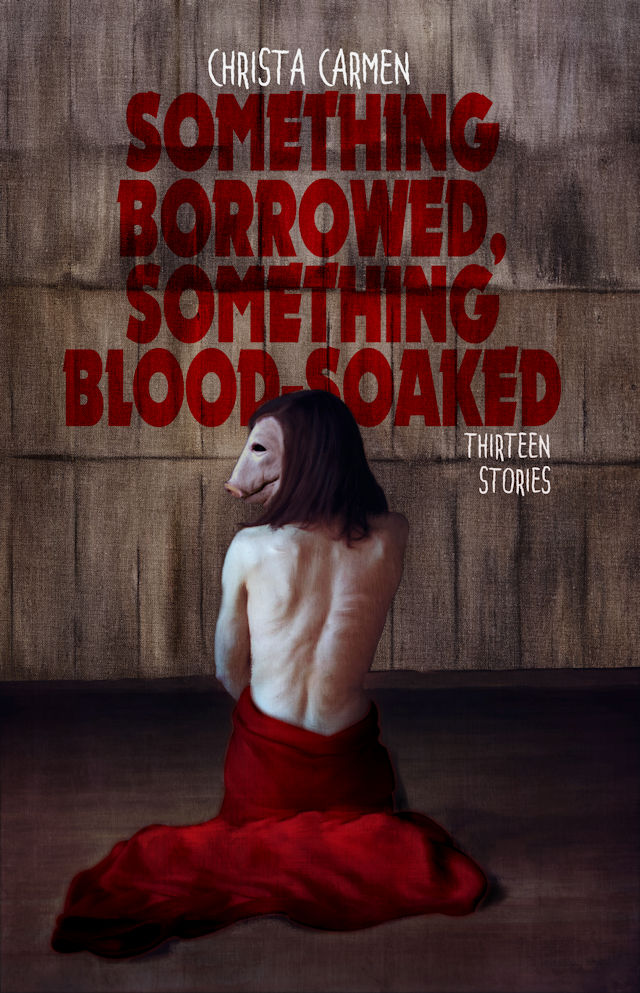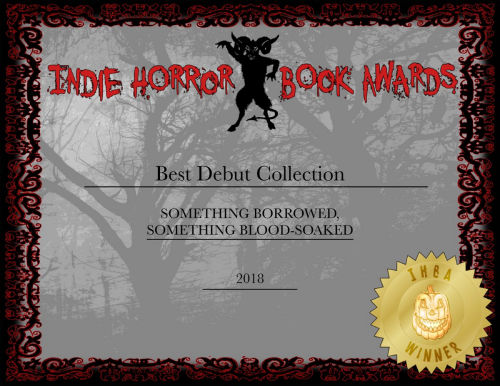 Something Borrowed, Something Blood-Soaked
Winner of the Indie Horror Book Award for Debut Collection
A young woman's fears regarding the gruesome photos appearing on her cell phone prove justified in a ghastly and unexpected way. A chainsaw-wielding Evil Dead fan defends herself against a trio of undead intruders. A bride-to-be comes to wish that the door between the physical and spiritual worlds had stayed shut on All Hallows' Eve. A lone passenger on a midnight train finds that the engineer has rerouted them toward a past she'd prefer to forget. A mother abandons a life she no longer recognizes as her own to walk up a mysterious staircase in the woods.
In her debut collection, Christa Carmen combines horror, charm, humor, and social critique to shape thirteen haunting, harrowing narratives of women struggling with both otherworldly and real-world problems. From grief, substance abuse, and mental health disorders, to a post-apocalyptic exodus, a seemingly sinister babysitter with unusual motivations, and a group of pesky ex-boyfriends who won't stay dead,
Something Borrowed, Something Blood-Soaked
is a compelling exploration of horrors both supernatural and psychological, and an undeniable affirmation of Carmen's flair for short fiction.
Available now from
Amazon
,
Audible
,
Barnes & Noble
, and
Unnerving
.
Purchase a Signed Edition
You can also purchase a signed edition of
Something Borrowed, Something Blood-Soaked
for $18 (plus $4.15 shipping and handling) using the Buy Now option below.

Nov 29, 2022
7:00 PM - 9:00 PM
Rooftop Readings
Ample Hills (Gowanus)
New York, NY
Directions
Rooftop Readings is back with some fantastic readings for November! We'll feature Christa Carmen, Leanna Renee Hieber (with Andrea Janes), and Chris Ryan! This is the latest in our monthly (usually 3rd Tuesday, but this time the 5th) author reading series held on the Ample Hills rooftop in Gowanus, Brooklyn. Each month will feature a different set of three authors from a variety of genres — science-fiction, fantasy, horror, young adult, mystery, humor … the sky's the limit! And bonus: There's ice cream involved! Ample Hills now also sells pizza if you want to chow down before your ice cream, too. Tickets (which include a free regular sized ice cream) should be purchased online, but can be bought at the venue (pending availability).
Get your tickets
here
, now. For more on the readings and upcoming authors, go
here
. Want to read with us? Fill out the form
here
.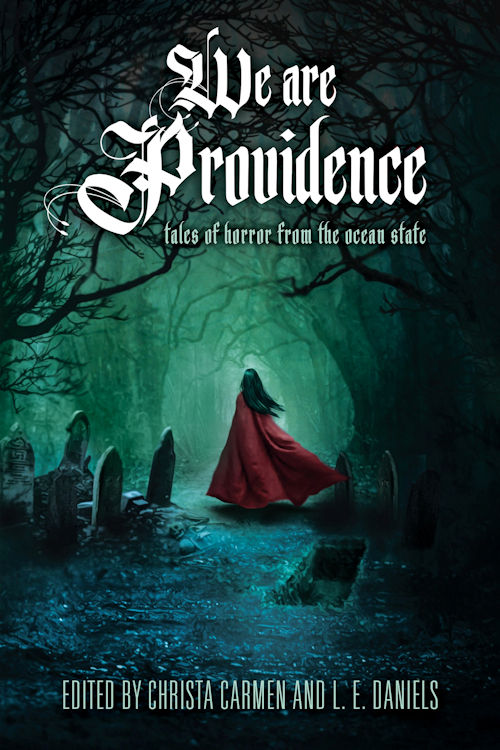 "Testing a Horrible Superstition"
We Are Providence: Tales of Horror from the Ocean State,
Weird House Press
Co-edited by Christa Carmen and L.E. Daniels. Contributors include Joshua Rex, John Lynch, Christa Carmen, Mary Robles, Jason Parent, Victoria Dalpe, L.E. Daniels, Michael Squid, Paul Magnan, Barry lee Dejasu, H.Y. Hsu, Faye Ringel, K.H. Vaughan, Curtis M. Lawson, Steven E. Belanger, and Aron Beauregard.
»
Read more