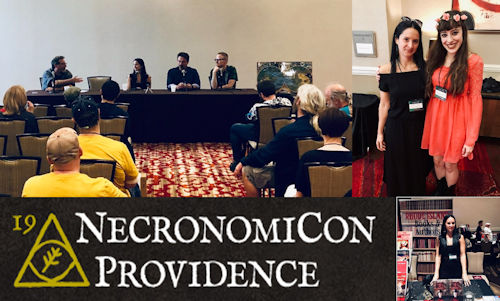 Aug 21-25, 2019
NecronomiCon 2019
Biltmore Hotel
11 Dorrance Street
Providence, RI 02903
Directions
Pre-Party Readings, Wednesday, August 21, 2019, 6:00 – 8:00 p.m.: A special author reading event at the Black Box at AS220, 95 Empire Street in Providence, Rhode Island. Authors will share 7-10 minutes each of their work.
Panel, Friday, August 23, 2019, 10:30 – 11:45 a.m.: SONGS THE SANDMAN SINGS: THE LEGACY AND INFLUENCE OF E.T.A. HOFFMANN – Newport-Washington, Omni 3rd Floor. German Romantic and polymath E.T.A. Hoffmann (1776 – 1822) was an early pioneer in science fiction and fantasy, with macabre sensibilities that influenced Poe, Kafka, and Hitchcock. Perhaps best known for his stories The Nutcracker and the Mouse King, The Sandman, and Automata, his work and ideas connected fantasy, mesmerism, dreams, and machine culture in ways sometimes overlooked today. Panelists Christa Carmen, Michael Dirda, Sean Moreland (M), Sonya Taaffe, & L.C. von Hessen discuss his work and illuminate his enduring influence on weird fiction.
Panel, Sunday, August 25, 2019, 3:00 – 4:15 p.m.: THE DREAMLANDS AND DREAM NARRATIVE IN HPL – Washington-Newport Room, Omni 3rd Floor. Dreams figure prominently in the work of Lovecraft, both in his Dream Cycle stories and in other work. Our panelists explore the geography and denizens of the Dreamlands, and his use of dreams in general in fiction and poetry. What were the major influences on his dream writing and how did his own dreams invade his waking life? How have writers expanded on or modified his ideas since? Close your eyes and find out! Panelists: Christa Carmen, Pete Rawlik (M), Jason Bradley Thompson, Peter Cannon, James Chambers.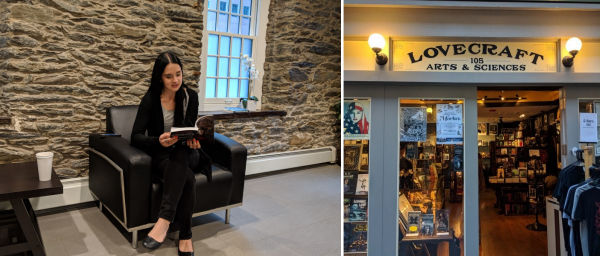 May 2, 2019
Lovecraft Arts & Sciences Horror Reading Event
Time TBD
Lovecraft Arts & Sciences
65 Weybosset St, Providence, RI
Directions
Massive Dark Fiction Book Bundle! Sign up for these twenty-four authors' mailing lists (with one click!) and win twenty-four print copies of each author's latest release!
Unnerving Women Book Bundle! Get 7 paperbacks for $70 + free shipping to CA, US, & UK: Something Borrowed, Something Blood-Soaked by Christa Carmen, Fountain Dead by Theresa Braun, The Maiden Voyage and Other Departures by Jessica McHugh, Licking the Devil's Horn by Renee Miller, Breathe. Breathe. by Erin Sweet Al-Mehairi and includes pre-orders of Howl by Renee Miller and To Be Devoured by Sara Tantlinger.
The Elvelon Press Team welcomes a new head of Media Relations, Helena! You can read more about Helena in Issue #2 of Outpost 28 via Christa Carmen's short story "Three Cheers for Sweet Revenge," but just to give you a taste for who Helena is, this restless spirit enjoys terrorizing adolescents through the medium of a Ouija board, shape-shifting, and speaking in tongues. Let's give Helena a nice, warm human heart, err, welcome to Elvelon Press!!!