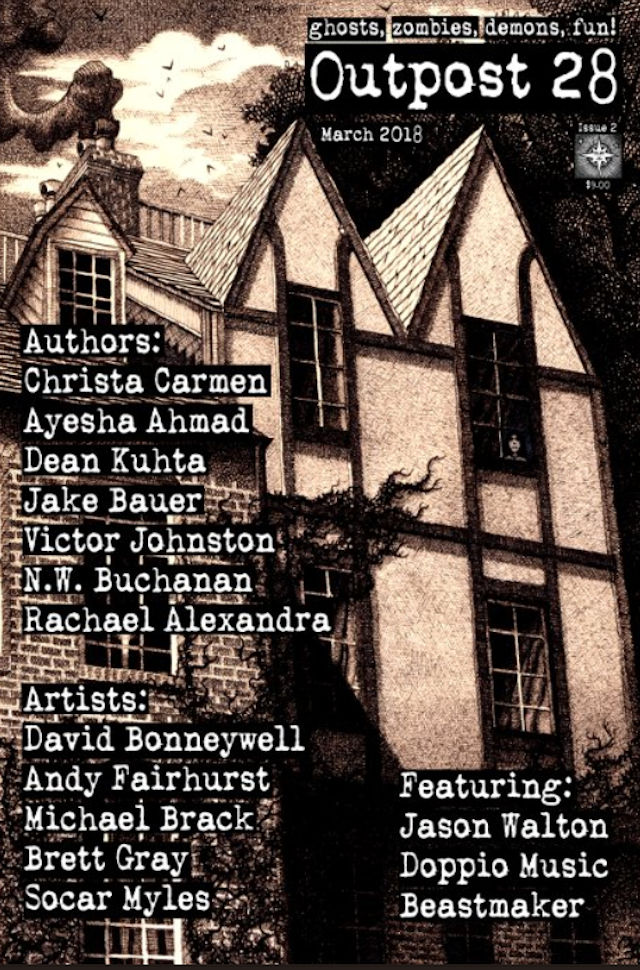 "Three Cheers for Sweet Revenge"
Outpost 28 Issue #2
A collection of dark short stories, artwork, and interviews that feature soul-swallowing horror, phantasmic darkness, and a satisfying dosage of brain-munching zombies. Issue #2 features tales by Christa Carmen, Ayesha Ahmad, Rachael Alexandra, Dean Kuhta, and Victor Johnston as well as illustrations by professional artists like Andy Fairhurst, David Bonneywell, Michael Brack, Socar Myles, and Brett Gray. In addition, there are follow-up interviews from Issue #1 with musicians Jason Walton (formally of Agalloch), Tim Cretella from Doppio Music, and Trevor Church of Beastmaker. Buy your copy of issue #2 today to enjoy the many curious worlds of Outpost 28! 50% of all proceeds of Outpost 28 go to helping the homeless in Richmond, VA.
»
Read more

"Episode 2, Heroin Epidemic Series"
Books and Things with Tom Santos

"Shine a Light on Heroin"
Art Now and Here

"For the Record, with Shawn Murphy"
WPXQ-TV, ION Television Network
Michael Upstill gives Something Borrowed, Something Blood-Soaked a five-star review: "...dark, witty, quirky...clearly aimed at inviting the reader to completely immerse in the offered slices of the lives of her relatable and sometimes all too familiar characters."
Of Something Borrowed, Something Blood-Soaked, the Scary Reviews says: "From the initial story, Thirsty Creatures, Christa Carmen put a cool twist on a classic Greek mythology tale, and turned it upside-down. The story was a fun read."
The Kickstarter campaign for Chilling Tales for Dark Nights raised $17,880 via 325 backers, an amount that resulted in two stretch goals reached and the project being funded at 358%! The first installment of the illustrated horror anthology will be released in September, just in time for Halloween!
Christa Carmen's "Shark Minute" will be included in the Chilling Tales for Dark Nights illustrated horror anthology, an eBook, print, and audiobook compilation of original, folklore-inspired short scary stories, due out just in time for Halloween 2018. Contribute to the Kickstarter campaign, and help turn this book into a trilogy!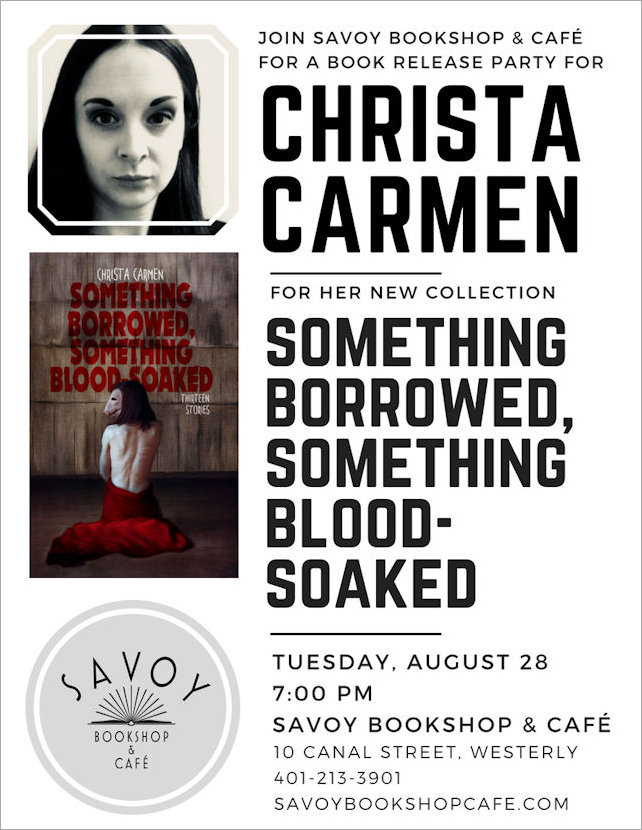 August 28, 2018
"Something Borrowed, Something Blood-Soaked" Launch Party
Savoy Bookshop & Café, Westerly, RI
Event details