Cedar Hollow Horror Reviews
Interview with Christa Carmen
Read Interview
The Westerly Sun
"Is there a better way to combat the opioid scourge? One local author thinks so."
Read Interview
Jiffy-pop and Horror Blogcast
Unnerving publisher Eddie Generous talks to Christa Carmen about books, Rocky, and the Stanley Hotel.
Listen to Interview

Gwendolyn Kiste's Blog
In the Red: Interview with Christa Carmen
Read Interview
Grim Reader Reviews
Calvin Demmer Talks to Christa Carmen
Read Interview
The Westerly Sun
"In the Easy Chair with...Christa Quattromani Beauchamp"
Read Interview
April is #NationalPoetryMonth and the 6th installment of the HWA Poetry Showcase is now live and open for submissions. Stephanie M. Wytovich will be editing this year's showcase and judging alongside Cynthia Pelayo & Christa Carmen! Submit your best horror poetry HERE.
The revised edition of Dean Kuhta's Silvarum will be released at the end of April 2019 and will feature a foreword by Christa Carmen. Check out Dean's previously published work, as well as his mesmerizing artwork, at his website.
Matthew Brockmeyer's short story collection, Under Rotting Sky, will be available April 20, 2019, and Christa Carmen provided the following blurb: "Brockmeyer reels you in with addictive prose and unforgettable characters, only to reach down your throat and pull your guts out from between your teeth. An intense collection of hardcore horror, chock full of murderous children, lost souls, deranged fairy tales, and punk-rock ghosts."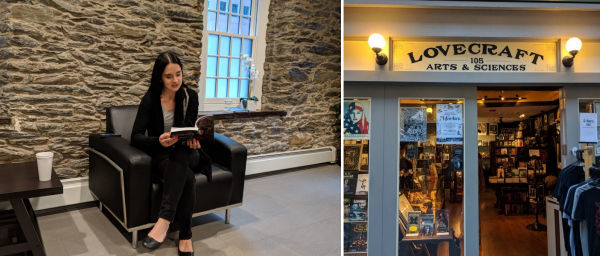 May 2, 2019
Lovecraft Arts & Sciences Horror Reading Event
Time TBD
Lovecraft Arts & Sciences
65 Weybosset St, Providence, RI
Directions