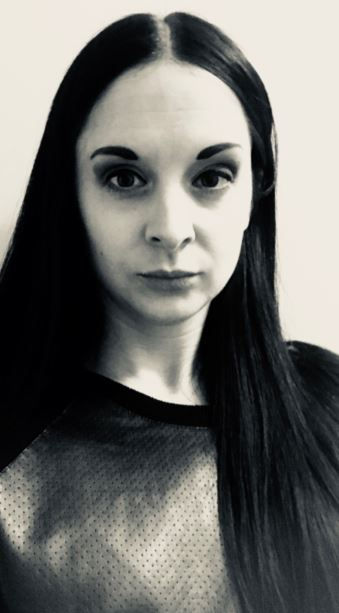 Christa Carmen's short fiction has appeared in
Fireside Fiction Company
, Unnerving Magazine, Comet Press' Year's Best Hardcore Horror, Volume 2, Outpost 28 Issue #2, Third Flatiron's Strange Beasties, Alban Lake Publishing's Only the Lonely, DarkFuse Magazine, Tales to Terrify, Black Ice Magazine Volume 2, Dead Oaks' Horror Anthology Podcast, Horror Hill/Chilling Tales for Dark Nights/
The Simply Scary Podcast Network
, Ghost Parachute, Weasel Press' The Haunted Traveler, Mad Scientist Journal,
The Eunoia Review
, Blood Moon Rising, Danse Macabre, Wolfsinger Publications' Just Desserts, DreamFusion Press' The Book of the Macabre, Devolution Z Horror Magazine, The
J.J. Outré Review
, Prolific Press' Jitter Issue #4,
Literally Stories
, Fiction on the Web, Corner Bar Magazine, pennyshorts, Anotherealm, and Dark Fire Fiction. In 2016, "Four Souls of Eve" was published by Frith Books as a standalone eBook. Her work won Best in Genre, Thriller/Horror, in wordhaus' 2016 Trick or Treat Fall Story Contest and "The Goblin's Abettor" won The Haberdasher's Monster Mash Slash Fiction Contest in 2017.
Christa has additional work forthcoming from Chilling Tales for Dark Nights/The Simply Scary Podcast Network, Outpost 28 Issue #3, Lycan Valley Press Publications' Dark Voices, and Space Squid. Her debut fiction collection, "Something Borrowed, Something Blood-Soaked," will be released in August 2018 by Unnerving.
Christa lives in Westerly, Rhode Island with her husband and their bluetick beagle, Maya. She has a bachelor's degree from the University of Pennsylvania in English and psychology, and a master's degree from Boston College in counseling psychology. She is currently pursuing a Master of Liberal Arts in Creative Writing & Literature from Harvard Extension School. Christa works for Pfizer in Clinical Trial Packaging, and at a local hospital as a mental health clinician.
On Halloween 2016, Christa was married at the historic and haunted Stanley Hotel in Estes Park, Colorado (yes, the inspiration for Stephen King's 'The Shining!'). When she's not writing, she is volunteering with one of several organizations that aim to maximize public awareness and seek solutions to the ever-growing opioid crisis in southern Rhode Island and southeastern Connecticut.
Michael Upstill gives Something Borrowed, Something Blood-Soaked a five-star review: "...dark, witty, quirky...clearly aimed at inviting the reader to completely immerse in the offered slices of the lives of her relatable and sometimes all too familiar characters."
Of Something Borrowed, Something Blood-Soaked, the Scary Reviews says: "From the initial story, Thirsty Creatures, Christa Carmen put a cool twist on a classic Greek mythology tale, and turned it upside-down. The story was a fun read."
The Kickstarter campaign for Chilling Tales for Dark Nights raised $17,880 via 325 backers, an amount that resulted in two stretch goals reached and the project being funded at 358%! The first installment of the illustrated horror anthology will be released in September, just in time for Halloween!
Christa Carmen's "Shark Minute" will be included in the Chilling Tales for Dark Nights illustrated horror anthology, an eBook, print, and audiobook compilation of original, folklore-inspired short scary stories, due out just in time for Halloween 2018. Contribute to the Kickstarter campaign, and help turn this book into a trilogy!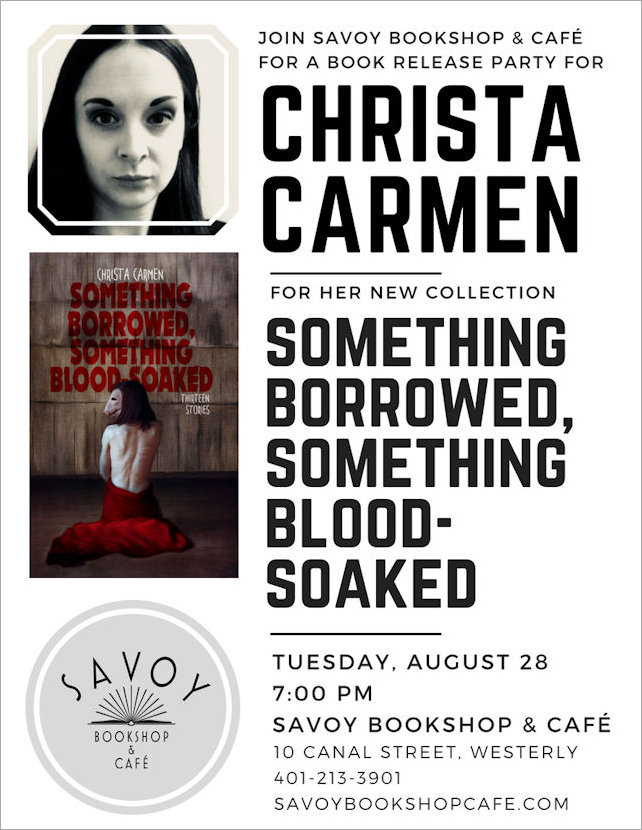 August 28, 2018
"Something Borrowed, Something Blood-Soaked" Launch Party
Savoy Bookshop & Café, Westerly, RI
Event details